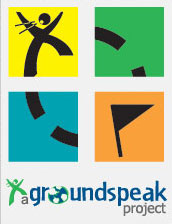 I first heard about Geocaching in September 2000 on Slashdot.
It's the perfect outdoor sport for computer geeks like me.
What is it?
The Geocaching FAQ covers most questions, but to put it simply:
Take a container and hide it somewhere in the world, record the latitude and longitude using your GPS receiver, and post the location to the Geocaching website so that others can find your stash. Finding the stash is it's own reward, but most caches contain some sort of trade-able item. Sign the logbook, take something, leave something.
I've only been caching since May 2002. It took me that long (nearly a year-and-a-half) to get into Geocaching, because I simply didn't have a GPS receiver!
---
My Cache Stats as of 5/9/2007 (Get your own CacheStats at www.logicweave.com)
Cache Finds
Total Found:
300 (# found/attended logs)
Find Rate:
0.166 per day (1.2 per week, 60 per year)
Caches:
300 (# unique caches visited)
Avg. difficulty / terrain:
1.84 / 1.61
# Archived:
111 (37%)
FTFs:
7
Avg. in 1 day:
2.2
Oldest Cache:
Singletrack Stash (GC183 placed 1/17/2001)
Most in 1 day:
18
Most in 1 month:
24
Days Cached
Total days cached:
134 (every 13.4 days or 7.4%)
Most consecutive days with a find:
3
Most in 1 month:
13
Most consecutive days without a find:
293
History
Year
Total Found
Rate
Days Cached / Frequency
2002
80
0.374
48 / every 4.5 days
2003
78
0.214
45 / every 8.1 days
2004
59
0.162
14 / every 26.1 days
2005
30
0.082
11 / every 33.2 days
2006
48
0.132
13 / every 28.1 days
2007
5
0.039
3 / every 43.0 days
Locations
US States (7):
NC, IL, CA, NY, VA, SC, FL
Countries (1):
United States
---
Update Sep 26 2005 - Profile
I need to update this site, but until then, I'm cleaning up the 'Caches Found' clutter below.

---
Update Dec 21, 2003 - GPS Drawing - I like the idea behind GPS Drawing, so I decided to give it a shot.
Here's my first experiment; I tried to create an image of Tux the Penguin, the Linux mascot, while driving around Winston-Salem NC. Unfortunately, the roads didn't always cooperate, so here's my best effort.

Total distance: 52.77 miles
Total Time: 02h 38m


---
Quick Links to Sections Below:
---
When my mother and I first started Geocaching, we used a Garmin GPS 12. Although a very nice unit, it certainly doesn't have the mapping and extended features our Garmin eTrex Legends. There are several models in the eTtrex family of products, ranging from $99 to $350. My sister uses the $99 basic eTrex Yellow.
---
GPS Software - Looking for software to use with your GPS receiver?
Windows/Win32 - There are many more apps for Windows-based PC's:
Linux - I've found a few handy utilities for my Linux-powered laptop:
Palm - As a paying member of Geocaching.com, I'm using Pocket Queries, which are customized cache queries you can have generated on a daily or weekly basis. My queries generate an EasyGPS LOC file and MobiPocket eBook format to bring on the hunt. Other handy Palm-related utilities include:
---
Other Geocaching Resources
---
Latest Update: Monday, September 26, 2005;
As of today, I've hidden 6 caches, and found 227 caches within:
Need more information? Follow the links above, contact me, or free to browse my profile.
---
Last modified 05/09/2007 by bart at spainhour dot com
http://www.spainhour.com/geocaching/